Click HERE to learn more.

Paperclip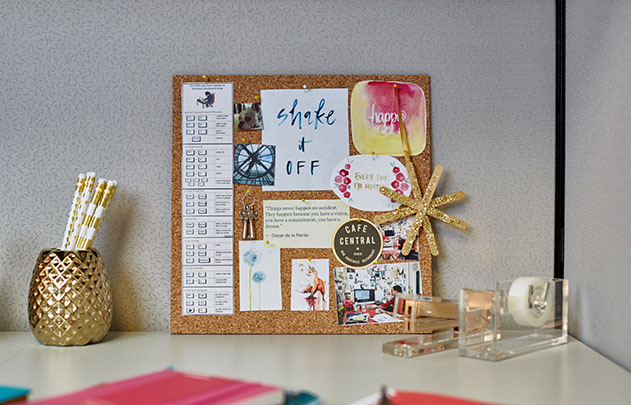 Let's face it - working in a cubicle environment can be a bland, vacant experience. Although some companies have elevated the design of their office spaces, many utilize the "greige" (gray/beige) cubicle environment. Environments are important due to the influence they can have on your attitude (which impacts performance and productivity) so it is a great idea to bring items into your workspace that allow you to feel comfortable and productive.
One quick way to enhance a cubicle is by including these cork tiles. You can frame them if you prefer or simply prop them up on your desk and place mementos from favorite places, phone extension lists or keyboard shortcuts for easy reference, pet pics, or inspirational quotes and art. These tiles are thin, but are sold in packages of four so they can be glued together for a more sturdy board. They are a great way to bring some much needed color and personality into your workspace, which can also directly impact how you feel when you are working. The better the workspace feels, the more likely you will feel comfortable and motivated to do your best work. Go get 'em, tiger.
Also shown in top image:
Clear tape dispenser and stapler
Also shown in bottom image:
Kate Spade New York pencil set
Distressed Mercury Glass Hurricane Votive as pencil cup
Tic Tac Mints in Strawberry Fields
J.Crew Classic Pavé Link bracelet
Click HERE to learn more.